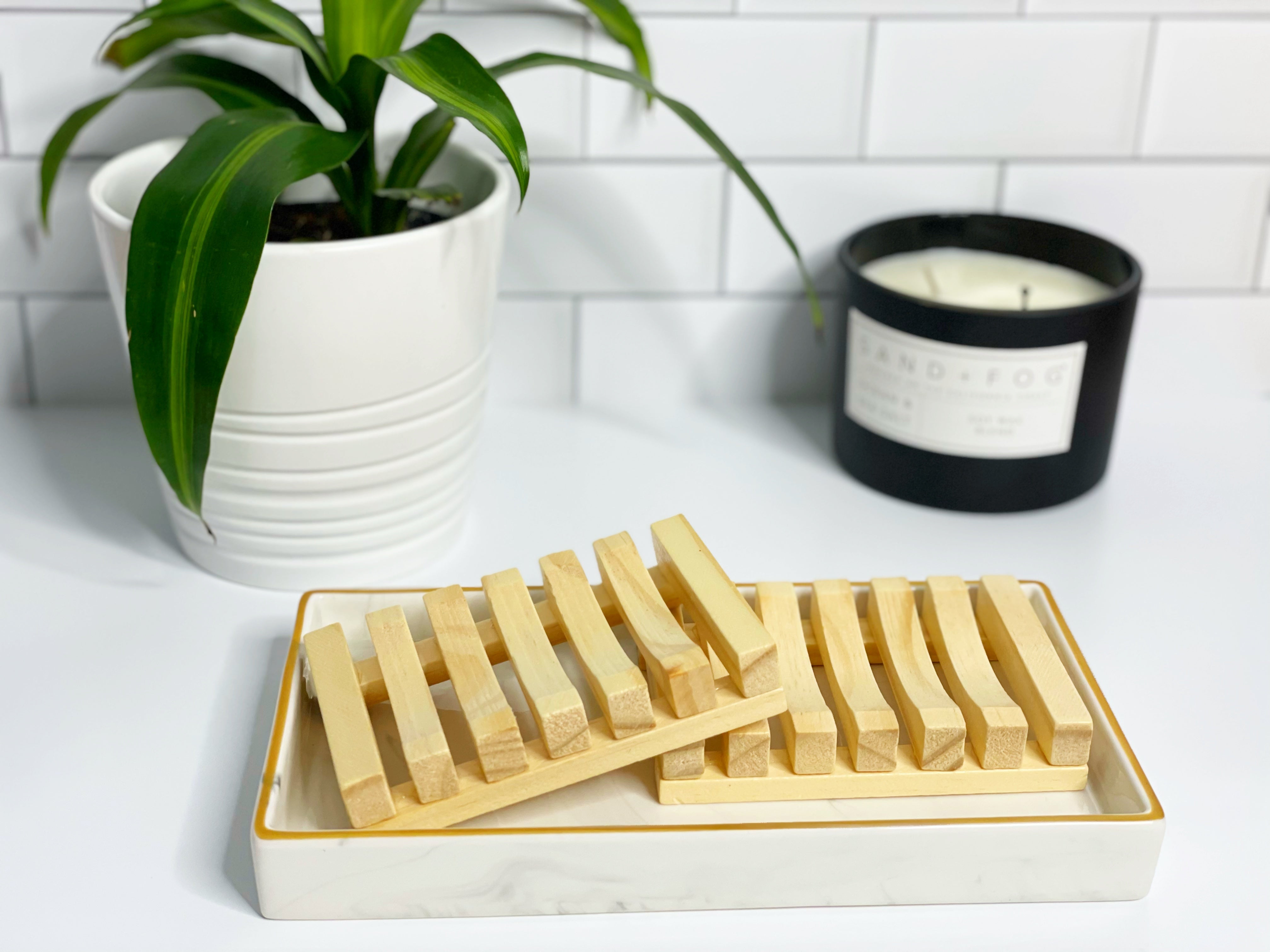 Sale price

$4.99
Regular price
(/)
---
This essential shower accessory is designed to keep your soap bar dry in between uses, by absorbing the excess water to extend the life of your natural soap. Allowing your soap to air dry will also make your bar of soap harder. The more time your soap spends completely dry, the longer it will last.
Our wooden soap dish is custom made to fit our soaps true to size. It fits perfectly on your sink or in your shower without extra overhang.

Length 4.52", Width 3.14", Height 0.86"
Store Polices

Payment Confirmation + Order Processing:

Please allow your payment 24-48 business hours to process, as debit/credit card information is verified before your order is accepted. If any changes need to be made to your shipping address, your order will be CANCELLED and must be placed again. Although orders are typically processed sooner, please allow up to [4] business days

from the date your order is placed

, (excluding weekends and federal holidays)

for your order to be shipped

, as our products are freshly handmade in small batches, with patience. 

*PLEASE NOTE: During restocks, sales, and holidays seasons please expect 5-7 business days of processing time. *Any orders that are marked for curbside pickup, is subject to the non-refundable shopping bag fee.

Curbside Pick-Up Policy:

Curbside pickup orders will be automatically ready and available on your selected date and time slot. Please send a text with your order number(s), to the phone number provided on your order confirmation once you arrive at the location. Please Note: Pickup option is a courtesy service offered based upon our availability. 

Orders

MUST

 be picked up within 7 days of the scheduled pickup date, to avoid being cancelled and restocked. Same day pickups are

NOT

allowed, unless the date is available. **

Bag fees are required by law in NYC. 

Shopping bags for curbside pickup orders are limited to (1) bag per order as necessary. Additional bags can be purchased for gifts via a separate invoice.

Shipping & Delivery Policy:

We offer Priority Mail Tracked and Insured shipping within 1-3 days with USPS and strive to ship orders out within 2-4 business days after your order is processed.

Please keep in mind holidays or weekends do not count as a business day and should be considered when calculating shipping times.

Transit times vary based on:

Total distance between our facility and delivery address.

Post office closure or delays.

Please note that this time frame is an estimate and not a guarantee.

USPS Dispatched Lost/Missing Package Policy:

Once packages leave our facility, we are no longer responsible while it is in transit. ButterSoft Essentials™ will not provide a refund nor reship a new order if the tracking number of the package has been confirmed and marked as delivered to address listed. 

If your package has been confirmed via USPS as "delivered in mailbox/porch/reception etc." and you did not receive it you must file a claim with USPS as we are not responsible for lost or stolen packages. To avoid the inconvenience of this occurring, we suggest having packages shipped to your work address, if possible. Click the link below to start the process of your claim.

Once your claim is filed with USPS, your mail carrier will be able to investigate to ensure it was not accidentally delivered to the wrong address.

 

Missed Delivery/Return To Sender Policy:

If your package is returned to sender for any reason, you may be eligible for a store credit or refund, where applicable (minus shipping cost) once it is confirmed that ButterSoft Essentials™ has received the product(s) untampered with and in sellable condition. If you would like your package to be reshipped to you, you will be responsible for the reshipping cost, regardless of the total of the original order.

 

ROUTE+ Insured Lost/Missing Package Policy:

ButterSoft Essentials™ is proudly partnered with ROUTE PACKAGE PROTECTION, for an additional cost based on the total of your order. By selecting Route+ at checkout your order will be protected from damage, loss*, or theft. In the unfortunate case that your order never arrives or is damaged upon arrival, you can easily file a claim with Route and receive a replacement or be fully reimbursed. We are excited to offer this service to you and we highly recommend you use Route+ package protection at checkout.


*Claims for packages marked "delivered" yet not received in which there is no evidence of "porch piracy" must be made 5 days after "delivery date" but no longer than 15 days to ensure it was not misdelivered or easily found around the premises." Claims for packages presumed to be lost (where the status is not "delivered") must be filed after 7 days (20 days for international) and within 30 days from the last checkpoint.

 

Warm Temperature Shipping Disclaimer:

(APPLICABLE MAY-SEPTEMBER)

 

During the warmer months, please be advised that orders need to be shipped to a location where they will be stored in a cool place or retrieved immediately.  Our Whipped Body Frosting is formulated with all natural ingredients for you to get the most benefit, therefore it contains NO chemical stabilizers or emulsifiers to prevent melting. 

-

Before shipping, Whipped Body Frostings are stored frozen as a precaution to ensure added firmness. However, we are unable to control warm weather temperatures while your package is transit on trucks and in mailboxes. We assume no responsibility for melting issues and orders will not be replaced. If melting does occur, the Whipped Body Frosting can be left to sit out at room temperature or placed in a refrigerator to solidify.

-

The product will look as though there is less in your jar, due to the fact that if a whipped product melts the air bubbles collapse and the volume is decreased. Melting does not negatively impact the properties of the Body Frosting.

-

*PLEASE STAY UPDATED ON YOUR TRACKING NUMBER AND MAKE ACCOMMODATING ARRANGEMENTS TO RECEIVE YOUR PACKAGE.*

 

Return + Refund Policy:

Due to sanitary reasons, we are unable to accept returns on items that are received sealed or unsealed. In order to protect all of our customers from the possibility of contamination, exchanges are neither allowed, making all orders FINAL SALE and there are no exceptions to this policy. If for an error is made on our behalf (wrong size or product) please contact us at info@buttersoftessentials.com, so that we may best solve the issue.

 

ButterSoft Rewards + Promotional Discounts Policy:

Rewards codes and promotional discounts will only be honored at time of purchase; we will not honor discounts from previous sales or purchases. Discounts can not be combined with any other offer or promotion. Rewards points are not earned on discounted orders. Taxes and shipping costs are excluded from any discounts or rewards points.

Updated: May 2023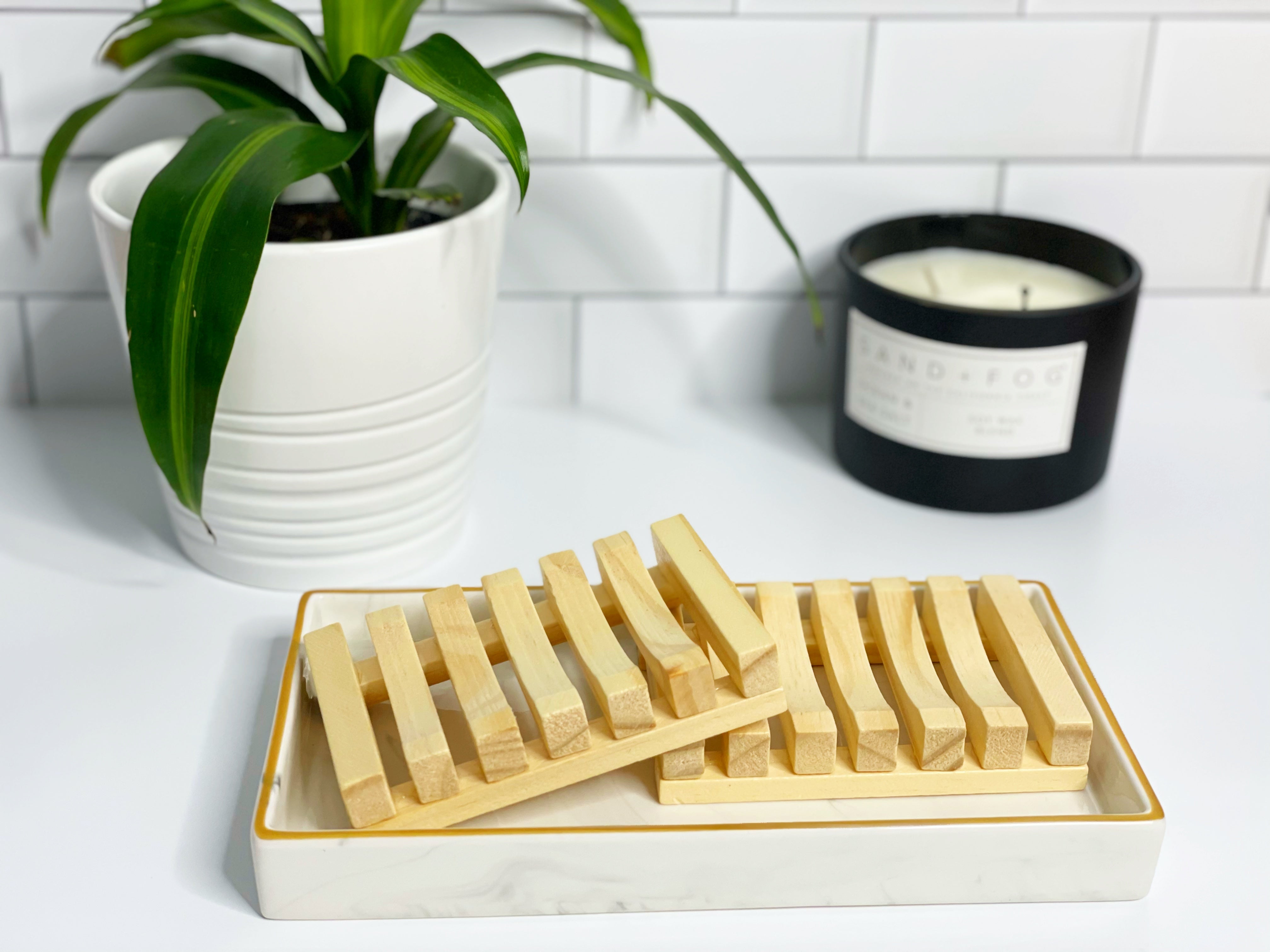 Wooden Soap Dish
Sale price

$4.99
Regular price
Choose options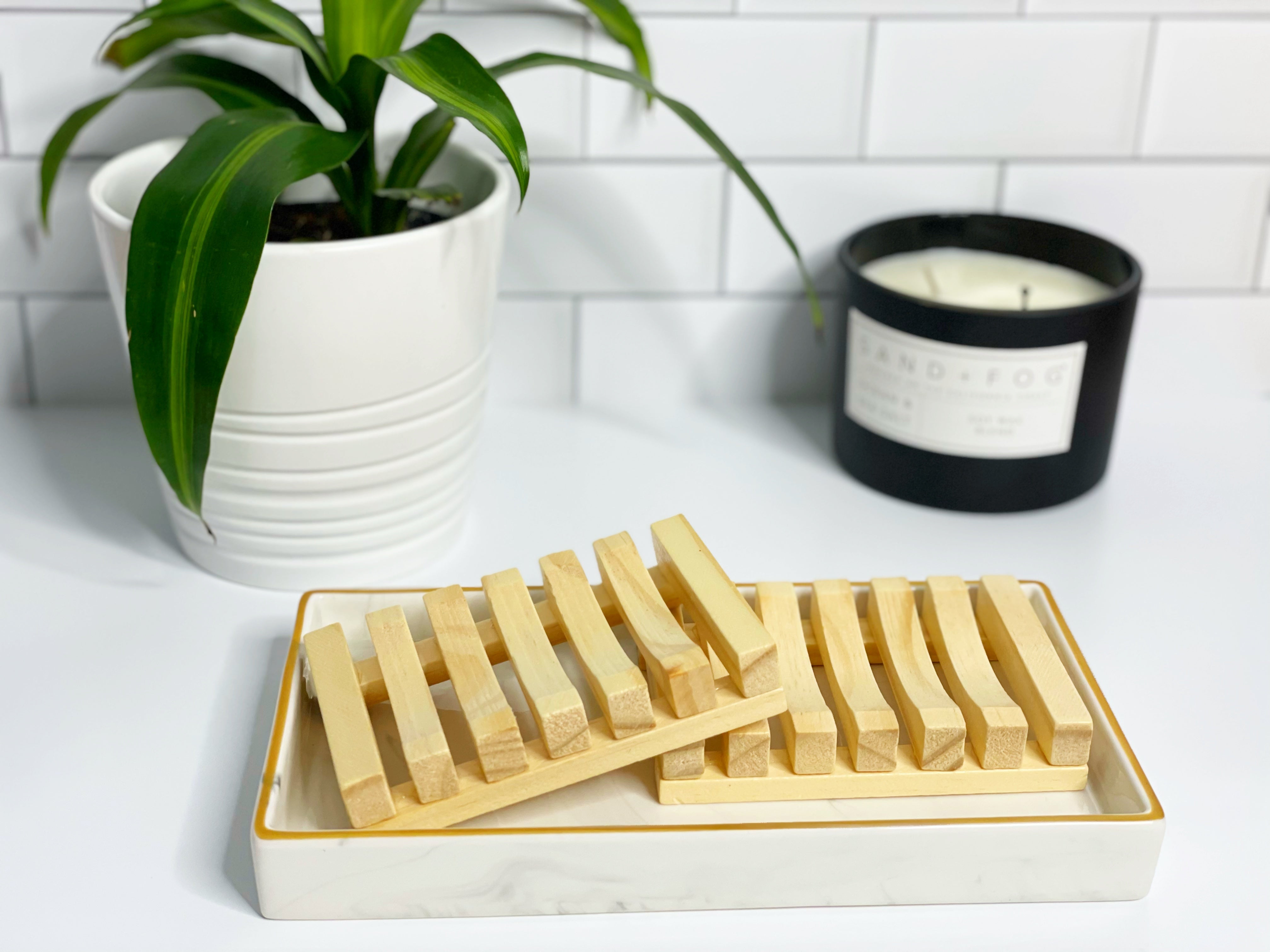 GAME CHANGING!
Such an awesome eco-friendly alternative to plastic options in stores. I have 2 for separate soap bars and it has been a godsend. It doesn't mold or smell weird after a while. They're both in brand new condition and I've had them for months now! Definitely get yourself one!!
Must Need for Soap
Its the cutest soap dish ever! I love the gaps in it so the water doesn't sit with the soap. Keeps it lasting longer.
Get it
Your soap will last longer . I have two soaps I am currently using and only one on a wood soap dish . That one has lasted me longer . Will be buying again
Must Have For Natural Soap.
Definitely a must have if you're using BSE soap. Using a regular soap dish, my BSE never really dried. Your soap will actually dry using this soap dishand in turn last longer.
Amazing
I didn't realize how this soap dish was needed until i purchased my first soap. It sat in water and the soap finished quick. Once i got the soap dish it dries out my soap and makes it last. Love it !